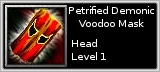 The godly Demonic Mojo can release blessed Voodoo runes to form a shield around you and protect you from harm!
Petrified Demonic Voodoo Mask
Category
Worth
Properties
Level 1
Armor,
31 Gold
2 Armor
All Trolls
Helmet
20% Evade Power Hit Criticals
10% Evade Meele Attack
10 seconds invulnerability on use, 25sec Cooldown
The Demonic Voodoo Mask (lvl 1) grants invulnerability for 5 seconds on use with a cooldown of 20 seconds. Voodoo Masks (lvl 1) can be created in the Voodoo Hut, they can be used by all trolls.
NOTE: Soul Contract is lost when the mask is disassembled!
Production:
Building
Result
Composite Resources
Basic Resources
Source
Voodoo Hut
→
←
←
←
1 Petrified Wood
Dead Tree
←
←
←
1 Feather
Birds
←
←
←
2 Fish Bone
Fish
↓
Voodoo Hut
Petrified Demonic Voodoo Mask
←
←
←
Soul Contract
Soulless Troll
←
←
←
1 Mana Stone
Rare
←
←
←
1 Feather
Birds
Ad blocker interference detected!
Wikia is a free-to-use site that makes money from advertising. We have a modified experience for viewers using ad blockers

Wikia is not accessible if you've made further modifications. Remove the custom ad blocker rule(s) and the page will load as expected.