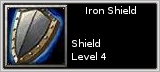 Shields are a good choice for trolls to reduce the damage taken in meele combat and provide some protection against missiles and spells.
Iron Shield
Category
Worth
Properties
Level 4
Armor,
10 Gold
50% to block up to 25 melee damage
Warrior only
Shield
Blocks a power hit every 10 sec

Iron Shield blocks up to 40 meele damage and is a good choice for trolls fighting in close combat.. Additionally it gives the wearer a good advantage over ranged and spell attacks blocking them every 10 seconds.
Shields CANNOT be used with ranged weapons and weapons who use the second hand (Torch).
Does not block friendly fire, area attacks and power hit criticals
Production:
Building
Result
Composite Resources
Basic Resources
Source
←
←
←
Tortoise Shell
←
Tortoise

Armory or Warrior Crafting

→
←
←
←
Wood
←
Jungle
←
Rope
←
2 Tinder
←
Basic Crafting
↓
Armory
→

Bronze Shield

←
1 Bronze Bar
←
1 Flint + 1 Stone
Forge
↓
Armory
→
Iron Shield
←
1 Iron Bar
←
2 Stone + Oil
Forge
Ad blocker interference detected!
Wikia is a free-to-use site that makes money from advertising. We have a modified experience for viewers using ad blockers

Wikia is not accessible if you've made further modifications. Remove the custom ad blocker rule(s) and the page will load as expected.