Welcome to the IRC channel #jungletrolls
Edit
You can either join via the webchat at http://webchat.quakenet.org/, you don't need to register.
or log onto quakenet.org via an IRC client and join #jungletrolls.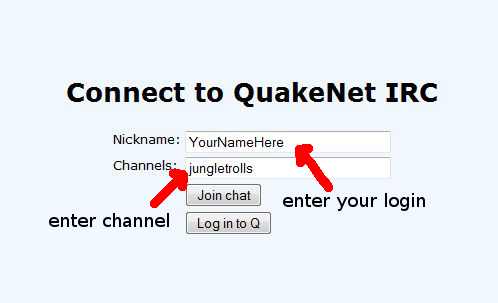 Remember that everyone can use a free nickname. You can can change your name with /nick YourNameHere.
If you want to register your nick, you can only do that via the Q-bot, use /msg Q HELLO youremail@address youremail@address and follow the steps to authenticate.
Ad blocker interference detected!
Wikia is a free-to-use site that makes money from advertising. We have a modified experience for viewers using ad blockers

Wikia is not accessible if you've made further modifications. Remove the custom ad blocker rule(s) and the page will load as expected.