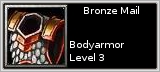 A chest armor covered with bronze scales that provides a lot of protection.
Bronze Plate
Category
Worth
Properties
Level 3
Armor,
23 Gold
12 Armor
Warrior, Hunter
Bodyarmor
10% Powerhit Reduction

Bronze Mail can only be used by the by Warrior, Hunter and other Trollodites and can be created in the Armory. For other classes different Bronze Armors (lvl 1-4) can be created. Bronze Armors can be upgraded to stronger Iron Armors in the Armory.
Production:
Building
Result
Composite Resources
Basic Resources
Source

Snake Leather Coat

←
←
←
Snake Skin
Snake
Tannery
→
←
←
←
Antelope Leather
Antelope
←
Rope
←
2 Tinder
Basic Crafting
↓
Armory
→
Bone Mail
←
←
←
4 Bone
(animals)
↓
Armory
→
Bronze Mail
←
2 Bronze Bar
←
2 Flint + 2 Stone
Forge
Ad blocker interference detected!
Wikia is a free-to-use site that makes money from advertising. We have a modified experience for viewers using ad blockers

Wikia is not accessible if you've made further modifications. Remove the custom ad blocker rule(s) and the page will load as expected.